Start your day by setting an intention on the Chill side.
This duo features Have a Chill Day Face Oil & Have a Chill Day Body Oil that are packed with hero ingredients to promote balanced and silky skin. Promoting hydration and cell turnover through Squalane, Rosehip Oil and Pineapple Fruit Extract for your face. And Prickly pear, watermelon and papaya seed oils that support your skin's ability to retain moisture and a youthful glow.
Have a Chill Day Face Oil
A daily face oil packed with hero ingredients like Squalane, Rosehip Oil and Pineapple Fruit Extract to give you that extra boost of AHA. Formulated to create a robust blend of Vitamins C, A, E & D while also providing bright aromatic scents. Leaving you and your skin feeling illuminated and ready to fight an array of skin woes.
Have a Chill Day Body Oil
A daily oil that is an antioxidant-rich blend with Vitamins A, B, C, and E, delivered through prickly pear, watermelon, and papaya seed oils to leave skin velvet soft with no residue. From hero ingredient Squalene to perk up your skin while deeply hydrating. With heavenly notes of Ylang Ylang, Patchouli and Calabrian Bergamot to have you walking anew.
Benefits
Face: 
•Long-lasting hydration

•High cell turnover and restoration

•Infuse your skin with Vitamin's A, E & D from Jojoba oil along with Argan oil

•Provide anti-aging benefits 

•Leave your skin feeling calm and detoxified 

•Borage seed oil protects skin from flare ups
Body: 
•Improve skin elasticity

•Encourage cell regeneration

•Soothe irritated skin

•Seal in moisture

•Brighten and perk up skin appearance
Shipping & Returns

Your order will be shipped within 48 hours from when you place your order. With that being said, sometimes there are slight delays but we try our best to keep fulfillment within this timeframe. See FAQs for more info.
Share
View full details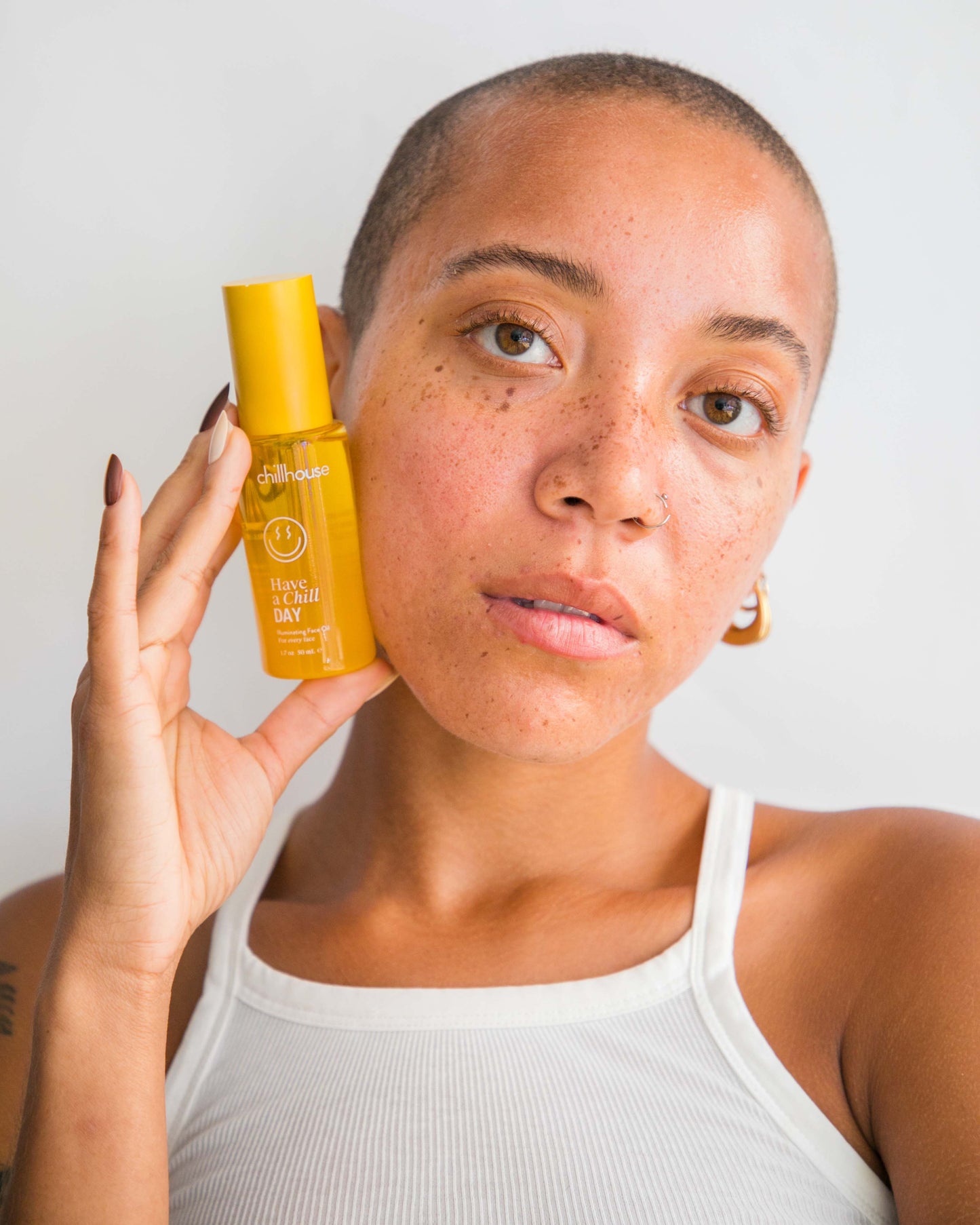 Subscribe to Our Chill Newsletter
Don't know about you, but our inboxes are crazy, stressful messes. Give them a little chill break from RL. Even better when the messages include chill content, contests and discounts.